Hi there
I'm Dylan (aged 13) and before I set up this business I didn't really know how to go about it. However I've learnt a lot about what to do and especially some cool tools / sites for getting a website, video editing, editing images – things like that and ways that help to get journalists to notice you that I think would be useful for other students who are thinking of setting up a business. I hope these tips help you like they helped me.
It is difficult to setup a business so I am also showing you which things I was able to do myself and which things I needed help and advice with. I think you will also need help and advice from teachers or parents.
The Idea
I love to shoot and edit videos, so I wanted to have a business that played on that strength. Also my family has always been interested in family history. They wrote a book about my grandad's life before he died and I have read it a few times.
Then last year I saw some old photos of my grandmother when she was young and thought it would make a nice video, with her answering questions about her childhood and me overlaying the photos on top. I enjoyed making this video and my grandmother loved it and my whole family loved it, so I thought that other families might enjoy doing it as well but might not think of it or know where to start..
So I created grandparentsmemories.com . I have created 30 online video editing tutorials for young children/teenagers so that they can add music and photos to interview clips of a grandparent plus they get 100 questions to ask a grandparent.
Step 1: Getting a logo for the business.
As soon as i got a logo designed it started to feel like a real business. I didn't know how to design a logo but I was told about www.fiverr.com where you can get professional logos designed for around $25 . Fiverr is an amazing site and I used it a lot for things that needed to be professionally designed as it is very affordable. See examples of logo designer here.
Before i got the logo designed I bought a web address. I was shown how to search on www.blacknight.com for web addresses that are available. Grandparentsmemories.com was available so that was going to be the name of my business.
I then asked the designer on Fiverr.com to design a logo using that name. The designer came back with 4 different logos to choose from and I went with the 4th one below. Brilliant value for $25
Because I was creating a lot of tutorial videos for the website I was told that it would be good to have my logo fading in and out at the start. On Fiverr you can get your logo "animated" for $5. I chose a designer and for $5 he created this one

Things I was able to 100% do myself
I decided on the web address, searched for it and bought it (with my dads credit card 🙂 ).
Contact the designers on Fiverr.com to ask them to design the logo and animated logo (It's very easy)
What I needed help with
Advice on where to go to get a web address – i didn't know that you could search for a web address on a site like www.blacknight.com and easily buy one that is not taken
Advice on where to go to get a logo designed – I didn't know you could get a logo designed for $25 that looks so good. Same with the animated logo for €5
Step 2: Creating the website
I didn't know how to create a website but I was shown a brilliant site called www.themeforest.net where you can buy websites that are already designed and programmed.
I bought a wordpress template one called WPLMS for $64 that has a built in feature for selling online tutorials that I planned to sell.
I then went to Fiverr.com and searched for a web designer that can update wordpress templates. I chose one that cost nearly $50. He then added my logo and some basic content to the website and got it to the stage where I could update it and start adding content myself.
I hadn't created my own website before. WordPress is easy to use once you understand it but I found it a little bit difficult at the start. To help me understand more about WordPress my parents suggested that I go to Udemy.com where you can buy online courses. I bought an online course for beginners on how to use WordPress and updating the website became much easier.
In order to explain to website visitors what the product is I recorded a promotional video for the website where I explained what the service is. (Here are some shots of me talking to the camera)
I then edited that video using Filmora Wondershare editor. The pc version of Filmora Wondershare is not free. The annual licence fee is around €40. I found editing this easy because I have been editing family videos for a few years.
If you want to learn how use Filmora there are some tutorial videos on Youtube here . If you want to use a free version of their editor on your smartphone install Filmora Go app. See a tutorial here
Here is the final video I created that i then put on the website and Facebook and twitter.

Once I started adding content to my website I had to learn how to design images like these.
There is a brilliant free image editing tool called Picmonkey that I had used before when editing some pics but I started playing with it more and I watched some tutorials like these . My first few designs weren't great but with soem practice they got much better. I designed the images above and all the images on my website. I didn't have to get a professional designer on Fiverr.com once I knew how to use Picmonkey.
Things I was able to 100% do myself
I designed the images and graphics on the site using picmonkey.com to add the text.
I added the text, images and videos to my website.
I shot and edited the promotional video and added it to my website.
What I needed help with
Website template. I got help with finding and choosing a template on themeforest as i didn't really understand what to look for
Choosing a web designer on Fiverr.com I got advice and help with choosing a web designer on Fiverr.com eg questions to ask him etc.
Web designer – The web designer did all the technical stuff – things that i do not know how to do
WordPress. I wasn't familiar with WordPress as I had never created a website before so my dad suggested that I take an online course showing me how to update a WordPress website. I took an online course on Udemy.com.
Step 3: Creating an example childhood memories video to show customers on the website
Customers will want to see an example of a childhood memories video before buying the service.
I researched the questions to ask a grandparent using online websites such as these
http://www.deseretnews.com/article/865595932/Genealogy-150-questions-to-ask-family-members-about-their-lives.html
http://www.familytreemagazine.com/article/20-questions
I then interviewed my grandmother again – this time for my business and I had more questions to ask her..
I then edited the interview video (using Filmora Wondershare editor on the PC) and added photos in order to create a childhood memories video.
This full video is for my family so I created a shorter version which is 2 minutes long for the website. Here is a short version of my grandmom's.


Things I was able to 100% do myself
I researched the memory jogger questions
I video interviewed my grandmother (I used a tripod to hold the camera)
I edited the video.
What I needed help with
As I have been making videos for quite some time I didn't need any help with this part at all.
Step 4: Creating the tutorial videos that customers receive when they purchase.
This was the biggest and most time consuming part of the business for me. Over the Christmas holidays I created all the tutorial videos on how to edit video clips on a PC/Mac. To do this I used a PC microphone and I used Camtasia recorder software. Camtasia video records what you do on a PC. I had already used Camtasia for editing so I knew how to use it.
I also created tutorial videos on how to edit video clips for free on a smartphone. The free video editing app I am showing customers how to use on a smartphone is called Filmora Go. It is a brilliant free app that works on iphones and android phones and I think other students should use it to create videos for their business.
The video editing software that I am showing customers how to use is Filmora Wondershare (the licence fee for a pc version costs around €40).
In total I recorded and edited 30 tutorial videos. These took a long time for me to create – around 4-5 hours a day for 6 days. Here are some of the tutorial videos that customers get when they purchase the product.

Things I was able to 100% do myself
I recorded and edited the 30 tutorial videos
What I needed help with
As I know how to make videos i didn't need help creating the tutorial videos. However, I did need Help with how to add the videos to my website as this was new to me. However, now that i know it is easy to embed videos.
Step 5: Creating the booklets for the grandchild and the grandparent that customers receive when they purchase
When customers order the product they will receive a booklet for the grandchild which gives tips on how to shoot the video, how to interview the grandparent and how to view the video tutorials on our website. It also explains what the grandparent needs to do.
They also get a booklet for the grandparent which explains what is involved in the project and gives the memory jogger questions. I had already researched the questions so that I could interview my grandmother.
I created a PowerPoint document for each booklet which would tell the designer what needs to go in the booklets. Here is the powerpoint for the Booklet for grandchild
I then found a freelance designer on fiverr.com to design it as a booklet that customers could download. The total cost of designing both brochures was $42.
From my Powerpoint document which had the logo, text and images this is what he designed for the grandchild's booklet. I think it looks neat.
And this is the grandparent's Booklet
I then added the images of the booklets to the website in order to show customers what they will be receiving.
Things I was able to 100% do myself
I created the Powerpoint documents showing the designer what I wanted in the booklets
Adding the images of the booklets to the website here
What I needed help with
Getting advice on what to put in the booklets and some advice on how to phrase things
Getting advice that it is best to send a designer a powerpoint file with all the content
Getting the booklet designed on Fiverr.com by a graphic designer.
Step 6: Promoting the business on Facebook and Twitter
I set up a Facebook page and Twitter account for my business. I had never really used Facebook or Twitter before (I like Snapchat) but I was shown how they both worked and how I could use them to market my new business…. now that I have the hang of it I love using them.
On Facebook I have been posting about how my business is progressing and this has got a lot of shares and likes.

I created all the images and graphics for my posts using Picmonkey – for example, this post about the new gift box …

I also made a fun video for social media called, "How to Shoot Your Granny" and posted it to Facebook and Twitter. This was great fun to make. We borrowed a Mannequin from Deirdre Houlihan in Killorglin and my two brothers got involved. I wanted it to be a fun way to explain what not to do and how my product can help you do the right things


Things I was able to 100% do myself
Once I was shown how to use Facebook and Twitter I send out posts 2-3 times a week.
I was also able to design the social media images using Picmonkey.com
I was able to shoot and edit the fun video for social media
What I needed help with
How to use Facebook and twitter – I needed to be shown how Facebook and twitter works and how to create a business page on Facebook.
Step 7: Trying to get media coverage
Facebook has been great for getting likes and shares. However, twitter seems to be great for getting journalists to notice my business. I didn't understand how twitter worked but my dad explained that if you "tag" or "mention" someone on Twitter they get notified. So I tweeted Deirdre Walsh and Anna Curtain about my new business and Deirdre Walsh replied, asking if I wanted to do an Interview.
That was brilliant. I think other students should try send a local journalist a tweet.
I then recorded the interview being aired and made a video out of it to post to Facebook and Twitter. To record it I used Filmore Wondershare.
On Twitter I then tagged the main Student Enterprise Programme twitter account @StudentEntProg in the tweet and they retweeted it.
It turned out that RTÉ Nationwide and RTÉ News2Day were following them and saw the retweet. They got in touch with me and asked if I would like to be filmed for Nationwide and News2Day. Amazing.
Here is the programme on RTE Nationwide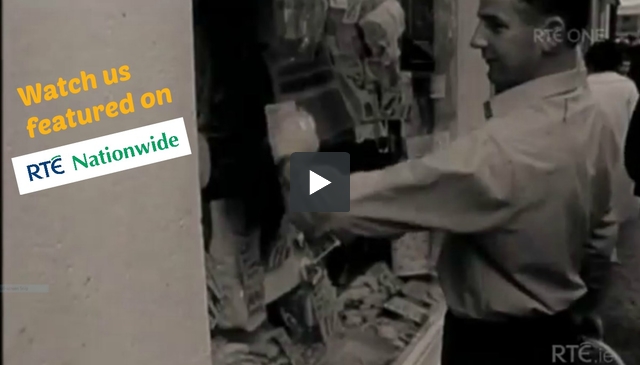 A journalist at Newstalk and Today FM saw the RTE Nationwide programme and sent this great tweet
So a few days later I sent him a private message saying that if Newstalk and Today FM wanted to talk to me I'd be delighted. He said that he would forward my details.
Things I was able to 100% do myself
What I received help with:
Being shown how to "tag" and mention account and how that helps get you noticed.
Step 8: Creating a package
After a few weeks I realised that people were very interested in grandparentsmemories.com but they didn't really understand my product.
My grandmother was very excited about the whole business but she said that she found it hard to explain to people 'what they would be getting'. I decided that I needed to make the product clearer so after talking to a few people and getting advice I decided to use a 'gift box' which could be bought in a shop (luckily my grandmother has a shop!).
Creating the 'Childhood Memories Interview Kit' – Gift box
The gift box would have the booklets (printed) and people could go to the website get the online video tutorials.
Now I had to 'create' the physical product.
I got the idea for the actual 'gift box' from a box of chocolates my mum had. I liked the way it was tied with a ribbon with the description of the sweets on a business card sized label tied to the ribbon at the front.
I decided to call this gift box Childhood Memories Interview Kit (because it contained everything you needed to prepare yourself to do a video interview).
I searched the internet for gift boxes and found a nice one from The Tiny Box Company.
I already had the downloadable booklets I went back to the same freelance designer on fiverr.com and asked him to convert them into 'print ready files'. This cost me an additional $15.
Gift Box Label
I also asked a designer on fiverr.com to create a business card sized label for me.
I had the booklets, flyers, business card labels and pop-up printed locally to me with Walsh Colour Print.
I used a red ribbon to tie the label on and I think it looks great.
I got some help from my cousins, Lauren and Ethan, putting the gift boxes together (top tip.. accept help when it's offered!)
The Childhood Memories Interview Kit is proving very popular.
Things I was able to 100% do myself
I searched online for gift boxes and found a few suppliers but chose the tiny box company based on the price and make of it.
I created a powerpoint of what I wanted on the business card / gift label
What I needed help with
Gift Boxes: My parents helped me order these from the UK, mother got the ribbon and my cousins helped me to fill the gift boxes and get them ready ;-).
Graphic Design: I used fiverr.com to create the box labels and an insert for the gift box.
Summary
I hope this helps other students who are planning to setup a new business. I feel I know loads more now than I did before I started and the biggest bits of advice and things I learnt were to use …
But I also learnt that you will need help and will need someone to explain to you other things like …
How to buy a web address and how to choose the best website template
How to use Facebook and Twitter if you don't know how to use them
What kind of things you need to say in a website or brochure – how to phrase things
Technical things that need to happen on a website
How to try different prices
Dylan